Welcome to the The Escapists Wiki
Edit
The Escapists reference written and maintained by the players.
Please feel free to contribute by creating new articles or expanding on existing ones.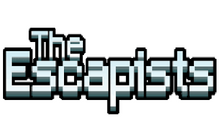 Welcome to The Escapists Wiki Edit
The Escapists is a puzzle role-playing video game played from a top-down perspective. The game was developed by Mouldy Toof Studios and following a Steam Early Access release in 2014, was released in 2015 for Microsoft Windows, Xbox 360, Xbox One and PlayStation 4. Players assume the role of an inmate and must escape from prisons of increasing difficulty.
The Escapists: The Walking Dead is the second game in the series of The Escapists, developed by Team 17 that is available on Steam, right now. It combines The Walking Dead comics with The Escapists. The Escapists: The Walking Dead will give the opportunity to players to control the famous Rick Grimes, one of the main characters of the series, through various comic-inspired scenarios. Starting with Rick waking up in hospital to a world infested by zombies, he'll need to survive the hordes and find the comic's other characters to band together with
The Escapists 2 is a sequel to The Escapists and the third game in the The Escapists series. The game is being developed by Team17 and is set to be released on PC in 2017. The game is set to have more detailed sprites and tiles, more ways to escape, more things to craft out of old toothbrushes and belly button fluff, a revised battle system, and more.
The game is set to add Multiplayer.
Escapists 2 coming in 2017!
Escapists 1 has planned to add multiplayer.